There are lots of books about Godzilla, about the movies, how they were made, or original stories. But there is only
one
book which is a travel guide to real film locations from Godzilla movies in Japan. It's "The Monster Movie Fan's Guide To Japan" by Armand Vaquer. Published in 2010, the book is a complete travel guide and history of film locations from not only Godzilla movies, but other Kaiju Eiga movies as well. The book is really one of a kind.
The self-published book starts out with travel information, like passports, immigration, currency, and getting a train pass. He then describes the major cities from the films, starting with Sapporo in the north and moves southward, focusing on specific movie scenes and buildings destroyed.
Featured locations include; the Wako Department store in Ginza, Tokyo, whose clock tower was destroyed by Godzilla in the original "Gojira"(1954), Yokohama Bay with it's Ferris wheel, which was the location of the climactic battle scene in "Mothra vs. Godzilla"(1992), The Saikai Bridge in Kyushu, destroyed in "Rodan"(1956), and of course, the National Diet building which has been destroyed many times. The book also describes locations like the big statue of Godzilla in front of Toho Studios.
The book is a must have for the serious fan who has ever considered a trip to Japan. I'm sure after reading it, you'll be ready to pack your bags and buy your ticket.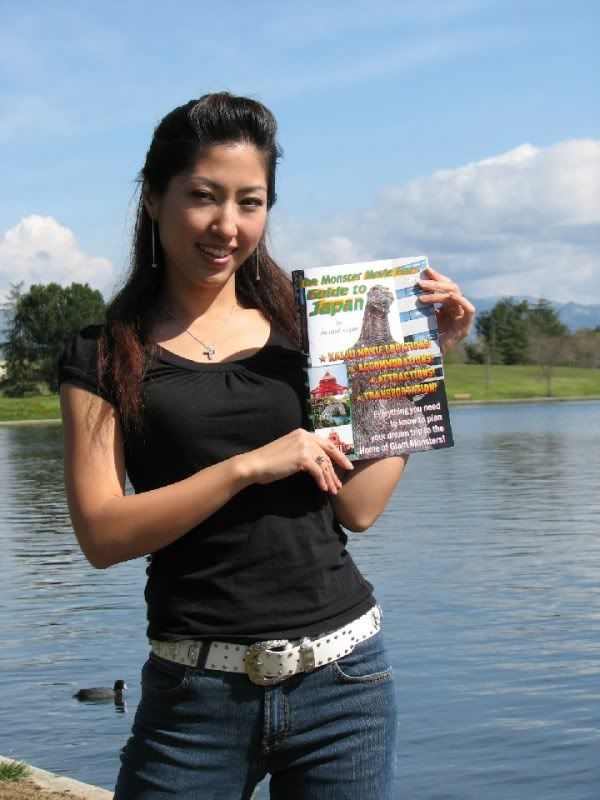 Yuu Asakura with "The Monster Movie Fan's Guide To Japan." Photo by Armand Vaquer.(a little eye candy never hurt)
Armand Vaquer is a serious, long-term Godzilla fan who keeps close to the action. He regularly attends conventions, has traveled to Japan many times, and is a contributor to the Monster Island News and authored dozens of articles on Godzilla for various blogs and fanzines. He's also publisher of a great blog, "Godzilla 3D" with the latest developments in the Kaiju Eiga universe, including the upcoming Godzilla 2014 from Legendary Pictures.
"The Monster Movie Fan's Guide To Japan" sells for $15.00 and is available from Comixpress or you can order from him directly.
Godzilla 3D Blog
Comixpress.com
Here's a funny promotion video for the book from
Monster Mad House
. I think that's Vaquer in the green make-up: